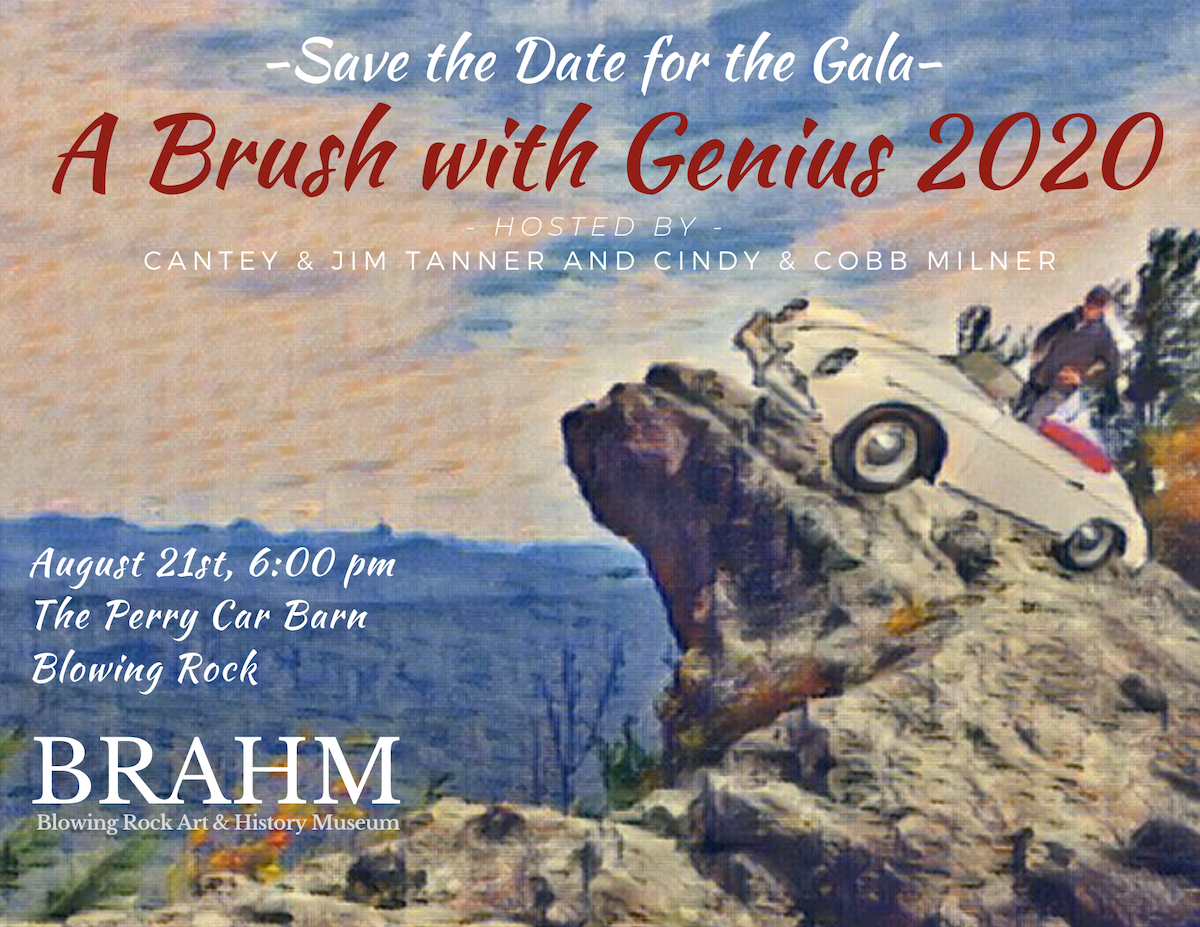 BRAHM Gala 2020
At the Perry's Car Barn
Friday, August 21, 2020 
Cocktails at 6:00 pm | Dinner at 7:00 pm
BRAHM's 2020 Gala, hosted by Cantey & Jim Tanner and Cindy & Cobb Milner, will be held in conjunction with the Blowing Rock Plein Air Festival. A Brush with Genius will present an evening of classic cars, music, live benefit auction, dinner, and good company.
During cocktail hour inside the Car Barn, guests will mingle around the impressive classic car collection and gain a sneak peek of the live auction offerings, including paintings created by special guest artists.Then an elegant seated dinner will be served by Reid's Catering.
Before dessert, guests will bid on auction items for the museum and on the paintings created especially for the event.  All proceeds directly support BRAHM's exhibitions, educational programs, and community outreach.
Entertainment will be provided by Wendy Jones Quartet.
Tickets: $275/person
Please note: We will do our best to honor seating requests, however the only way to guarantee a full table reservation is to become a Table Sponsor. (Please see sponsor levels and benefits listed below.)
Attire: Black-tie optional

Parking: offsite via shuttle. (Details to be announced closer to event date.)
(Guests with special needs may arrange for on-site parking with the staff at BRAHM. Very limited on-site parking is available.)
---
BRAHM is an exempt organization as described in Section 501(c)3/EIN# 30-0003315 of the Internal Revenue Code. $100 of the ticket price for this event is tax-deductible as allowed by the IRS to 501(c)3 organizations.
NOTE: Reservations and tickets are non-refundable. 
*Gala invitations will not be sent if the event fills to 75% prior to June 15, 2020.*

Daingerfield Society Members, please contact Jasmin McFayden directly to register at 828-295-9099 ext. 3011.
---
Sponsorship Opportunities
Maximize your fun by becoming a Gala Sponsor!
Learn more about our sponsorship levels below. (Sponsorships can be purchased at checkout.)
$1500 Sponsor Level ($800 tax-deductible donation)
Two (2) tickets to the Gala at the Perry's Car Barn
Two (2) Gala Preview Party event tickets at the Perry's Car Barn the night of the Gala
Two (2) Wet Paint Sale Preview Party tickets (exclusive early opportunity to view and purchase artworks) Saturday, August 22nd at BRAHM
Name listed on invitation
Recognition in print at the event
$2500 Sponsor Level ($1,100 tax-deductible donation)
Four (4) tickets to the Gala at the Perry's Car Barn
Four (4) Gala Preview Party event tickets at the Perry's Car Barn the night of the Gala
Four (4) Wet Paint Sale Preview Party tickets (exclusive early opportunity to view and purchase artworks) Saturday, August 22nd at BRAHM
Name listed on invitation
Recognition in print at the event
$5000 Table Sponsor Level ($1,800 tax-deductible)
Eight (8) tickets to the Gala at the Perry's Car Barn
Eight (8) Gala Preview Party event tickets at the Perry's Car Barn the night of the Gala
Eight (8) Wet Paint Sale Preview Party tickets (exclusive early opportunity to view and purchase artworks) Saturday, August 22nd at BRAHM
Name listed on invitation
Recognition in print at the event
Private After Hours Wine Tour at BRAHM with Director or Curator and up to eight (8) of your friends (to be scheduled with the museum) 
---
Purchase tickets
by completing the form below
Thank you to our 2020 Gala Committee co-chairs:
Cindy & Cobb Milner
Cantey & Jim Tanner

And Committee members:
Nelson Crisp
Dean Hamric
Bo Henderson
Sandy Huff
Pat Mauldin
Jasmin McFayden
Deatra Sellers
Jess Wehrmann
Vicki Worsham