The South in Color: A Visual Journal - a book-signing with Bill Ferris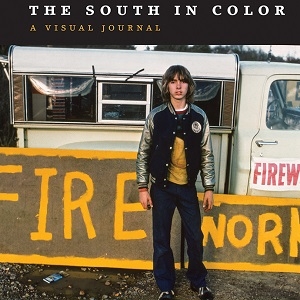 Since the moment William Ferris's parents gave their twelve-year-old son a Kodak Brownie Hawkeye camera for Christmas in 1954, Ferris passionately began to photograph his world. He has never stopped. The sixties and seventies were a particularly significant period for Ferris as he became a pathbreaking documentarian of the American South. This beautiful, provocative collection of one hundred of Ferris's photographs of the South, taken during this formative period, capture the power of his color photography. Color film, as Ferris points out in the book's introduction, was not commonly used by documentarians during the latter half of the twentieth century, but Ferris found color to work in significant ways in the photographic journals he created of his world in all its permutations and surprises.
The volume opens with images of his family's farm and its workers—family and hired—southeast of Vicksburg, Mississippi. The images are at once lyrical and troubling. As Ferris continued to photograph people and their homes, churches, and blues clubs, their handmade signs and folk art, and the roads that wound through the region, divisive racial landscapes become part of the record. A foreword by Tom Rankin, professor of visual studies and former directory of the Center for Documentary Studies at Duke University, provides rich insight into Ferris's work.
Books will be available for purchase at BRAHM's front desk.
Bill FerrisWilliam Ferris is Joel R. Williamson Eminent Professor of History at the University of North Carolina at Chapel Hill and a former chairman of the National Endowment for the Humanities. With Ferris's two previous books, Give My Poor Heart Ease and The Storied South, The South in Color completes an informal trilogy of Ferris's documentation of the South's tumultuous twentieth century.
"The South in Color is a kind of humble yet compelling song about the South. A new view of William Ferris's own sensibility in relation to an intricate and fraught landscape, this book is a deeply subjective and heartfelt expression of Ferris's experience of the culture that defines him, and that he loves. We experience his photographs as refreshingly free of self-conscious style and coming from a place within his deep understanding of the southern experience. We, viewing them, feel their message in a startlingly unmediated way."—Jane Livingston, author of The New York School: Photographs, 1936-1963, The Paintings of Joan Mitchell, and The Art of Richard Diebenkorn
"Gracious, ranging, sensitive, and personal, The South in Color is a new and significant part of a complex, deeply informed life's work. William Ferris's photographs, up close and personal, reflect on a life that began on a Mississippi farm. They are different from his previous work because of the immediate relationships with the people looking into the lens. It is their world, but it is his as well."
—Bruce Jackson, author of Being There: Bruce Jackson, Photographs, 1962-2012
This event is complimentary with museum admission.