Rivers and Tides: Andy Goldsworthy Working with Time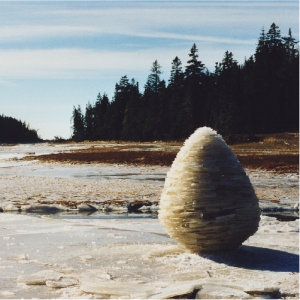 $5 students with ID, seniors, active military, EBT cardholders, $7 general admission
That rare film about an artist that is, in itself, a work of art, Rivers and Tides: Andy Goldsworthy Working with Time is a sensual and poetic journey into the world and mind of the renowned sculptor. Using materials from nature, Goldsworthy allows the elements to have the last say in his beautiful creations, as his ingenious patterns of wood, leaves, stone and ice move and erode over time. Filmmaker Thomas Riedelsheimer followed the artist for over a year intimately documenting his improvisational process and capturing the serene spectacle of his works. Although Goldsworthy's sculpture is best known through still photography, Rivers and Tides, with its haunting musical score by Fred Frith, is an altogether different way of experiencing the artist's most ephemeral and fleeting masterpieces.
"Ravishingly beautiful." - Stephen Holden, New York Times.
"The movie is breathtaking. It allows your mind to wander into speculative corners. It lingers long after the images leave the screen." - Jon Carrol, San Francisco Chronicle.
"FOUR STARS! Ravishing from start to finish…a work of art in its own right." - David Sterritt, Christian Science Monitor.
"I was enchanted as this movie wove me into its haunting and peculiar spell." – Roger Ebert, Ebert & Roeper.
Jennie Carlisle will lead a discussion after the film. Carlisle is currently Curator and Director of the Smith Gallery and faculty with the Art Department at Appalachian State University. From 2013 to 2015 she was the Program Curator at Elsewhere Museum in Greensboro, North Carolina-- a living museum, ever changing three-floor art installation, and artist-residency program. As a curator and art historian, she is particularly dedicated to socially engaged curation, collaborative processes of art production, issues of sustainability, and situation driven aesthetics. Recent projects include a community art parade, High Country Spring Procession with artist Ed Woodham, for the Smith Gallery. And with Elsewhere: Southern Constellations, Museum as Instrument, South Elm Projects, and Pancake Social. Jennie completed PhD coursework in Art History at the University of North Carolina at Chapel Hill in 2011. More information on her curatorial projects can be found at jenniecarlisle.com.
Enjoy a Thursday night in Blowing Rock with dinner and a movie!
Here's how it works: pick up your ticket anytime during museum hours on the day of the film, and present it at Bistro Roca for a 10% discount on your meal (offer only valid the day of the film). Then, come on over to BRAHM for a film and discussion.
Movies at the Museum features films by North Carolina filmmakers, films about the arts, and about the history and culture of the Appalachian region. Complimentary popcorn will be provided, and the film will be followed by a discussion facilitated by a special guest speaker.