Curious Worlds: The Art & Imagination of David Beck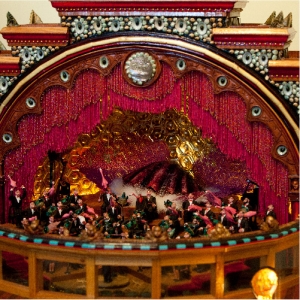 A suggested donation of $7
Curious Worlds: The Art & Imagination of David Beck pulls back the curtain on the singular artist David Beck: a master sculptor, carver, and miniature architect who works in a fantastical genre all his own, creating intricate worlds that are alive with magical and brilliant observations. A largely undiscovered genius, David Beck is known to a select group of collectors and curators. During his early, formative years in New York City, Beck lived on the edge of destitution. Eventually, he found gallery representation and established a following of enthusiasts who snap up his work as soon as it comes out. His pieces have been shown at the MET, the Guggenheim, and some of the world's most prominent galleries. His work, "MVSEVM" was commissioned by the Smithsonian American Art Museum, where it is on permanent display. To the larger public, though, he is virtually unknown.
His intricate, kinetic sculptures might be objects from a dream – fanciful buildings and hollow animals containing detailed, often humorous, scenes that are rendered on a tiny scale. Indifferent to current fashions, Beck combines modern, popular, and classical influences in his own way.
Curious Worlds captures the artist at work in his studio and reflecting on his art. It is an intimate insight into what it takes to create a masterwork: extraordinary ideas, an almost eerie ability to focus on the work, and patience. Beck submits to the camera's invasive scrutiny with a wit and charm that is both inviting and ambivalent. Ultimately, he comes across as the smartest, most creative artist you've never heard of.
Learn more about David Beck at davidbeckartworks.com
Speaker: Olympia Stone
Olympia Stone is an award-winning independent producer of documentary films about art and artists. She is currently working on a feature-length documentary about the artist Elizabeth King which she plans to complete in the fall of 2017. Her short film, The Original Richard McMahan, premiered at the Tally Shorts Film Festival in January 2017 and won the Florida Favorite Award. In April 2015, her documentary Curious Worlds: The Art & Imagination of David Beck, a portrait of a largely unknown artistic genius, premiered at the prestigious Full Frame Documentary Film Festival in Durham, North Carolina, and has been shown nationally and internationally. Curious Worlds aired on PBS in the fall of 2016. Olympia's previous film, about the artist James Grashow, The Cardboard Bernini (2012), charts the artist's exhilarating quest to create an intricately detailed cardboard version of the Trevi fountain. The film was broadcast nationwide on PBS, it won Best Documentary at the Art of Brooklyn Film Festival 2013, and was an official selection at Sebastopol, Santa Fe and 18 other festivals. Her first independent film, The Collector: Allan Stone's Life in Art (2007) chronicles the obsessive collecting of her father, a New York art world gallerist whose habits and prescient scouting shaped his life and the lives of many in his artfully cluttered orbit.