Our seasonal Exhibition Celebrations are some of our biggest gatherings of the year! Three times a year—winter, summer, and fall—on a Friday evening from 4:30 pm - 7:00 pm, the Museum hosts a reception to celebrate our latest changeover of exhibitions in the galleries. Hors-d'oeuvres, drinks, and music are offered throughout the evening. You'll have the chance to meet museum staff, exhibiting artists, featured historians, and fellow cultural enthusiasts from across our High Country community. Every reception is free, family-friendly, and always a party you don't want to miss!
---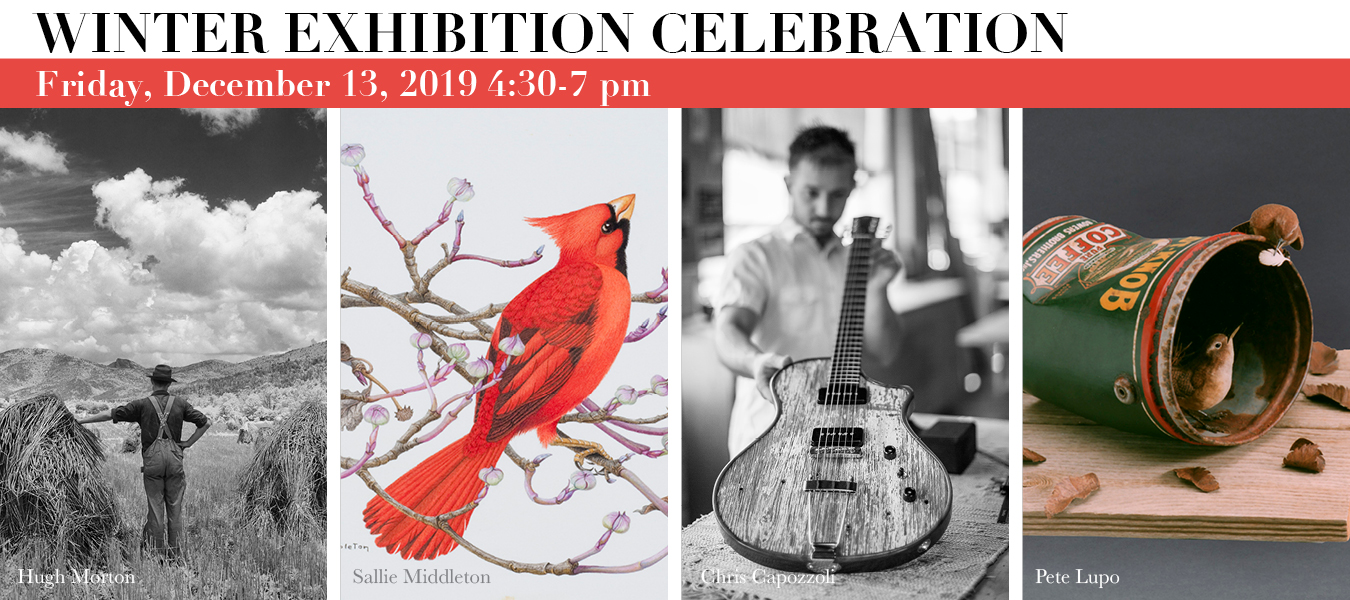 Our Winter Exhibition Celebration will take place on Friday, December 13th from 4:30 - 7:00 pm. Join us as we celebrate the opening of our winter exhibitions!
Photographs by Hugh Morton: An Uncommon Retrospective
November 9, 2019 - February 22, 2020
Sound Machines: Stringed Instruments by the Capozzoli Guitar Company
November 23, 2019 - March 7, 2020
Image Credit: Ashley Warren. Perspective (detail), 2019. Digital photograph. Courtesy of the Artist.
Sallie Middleton: A Life in the Forest
December 13, 2019 - March 21, 2020
Image Credit: Sallie Middleton. March-Cardinal (detail). Watercolor. Asheville Art Museum. Extended Loan from Sallie Middleton Parker.
Shared Spaces: Wildlife Wood Sculptures by Pete Lupo
December 13, 2019 - March 21, 2020
Image Credit: Pete Lupo. "A Bit of Color" (detail). Wood carving. Courtesy of the artist.
Mentors & Heroes: Photographs by David Holt
November 23, 2019 - March 28, 2020
Join us!
---