TAC Talk: Touching the Face of History: The Story of the Plott Hound, North Carolina's Official State Dog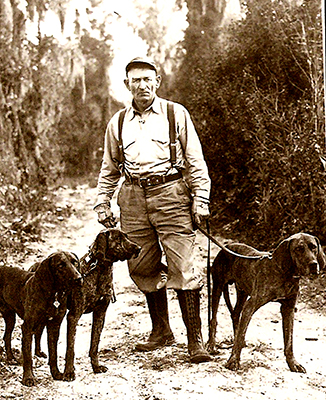 Thanks to NC Humanities Council Roads Scholars program, this program will be free and open to the public!
The Plott bear hound is the official state dog of North Carolina and is widely recognized as one of the world's premier big game hunting hounds. The breed is unique in many ways, including its Germanic origins, distinctive appearance, fierce loyalty, tenacity, and intelligence. But it is the story of the breed that truly sets it apart from all others.
The story begins in 1750 when the breed's original founder, Johannes George Plott, and his brother Enoch, left Germany with their prized hunting dogs. Their trip across the Atlantic began the two-hundred-year journey that would culminate in the mountains of North Carolina with the development of what is now considered by many to be the world's finest breed of hunting dog.
This fascinating story of the Plott family and the Plott hound is a classic American tale of adventure with roots deeply entrenched in North Carolina soil and American history and culture. And it is a story that award-winning author and historian Bob Plott, the great-great-great grandson of Johannes George Plott, is uniquely qualified to tell.
Bob is sometimes accompanied on his programs by one of his own Plott hounds, or by Nannie and Robert Plott, two dogs featured with Bob on national television shows.
About the speaker
Bob Plott is a North Carolina native who can trace his family roots in the Old North State back to 1750 when his great-great-great grandfather, Johannes George Plott, arrived here with five of the family's prized hunting dogs. The dogs would later become an officially recognized UKC and AKC breed and were designated as the official state dog of NC in 1989, as well as being widely recognized as the premier big game hunting dog in America today.
Bob is the award-winning author of four books -- that have been sold in all 50 states and 11 foreign countries -- as well as numerous magazine articles, including two monthly columns for national publications.
In addition, Bob has conducted his exceptionally well received historical programs across the southeast, and he continues to perpetuate his family legacy of raising Plott hounds today --a tradition that has been maintained by the Plott family in NC for more than two centuries. Please visit his website, http://www.bobplott.com/ for further program details, book reviews and program testimonials.
Thursday Art and Culture (TAC) Talks bring collegiate level lectures to your museum. Featuring scholars from around the country, the lectures are selected to provide supplemental information on our current exhibits, or highlight the history and heritage of the mountains.
Beginning at 6 pm these events have an hour long lecture with audience question and answer session at the end. Unless otherwise posted, all TAC talks are free for members and $5 for non-members.