The Maker's Table: "All Lined Up"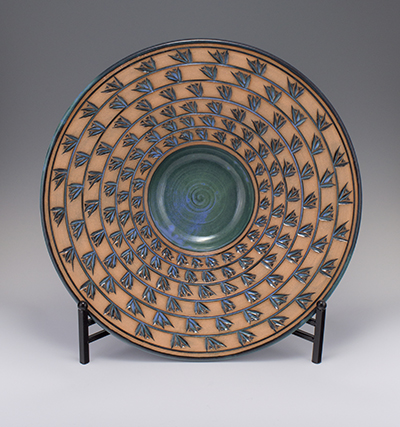 In this talk, potter Bob Meier will describe and demo how he inscribes his unique relief designs in his current work. He will also discuss his glazing techniques.
Image Credit: Title: Bob Meier, Concentric Carved Platter in Floating Blue, 2017. Clay. Courtesy of the Artist.
The Southern Highland Craft Guild presents, The Maker's Table, a monthly program where we invite you to spend an evening with a master crafter while they share the ins and outs of their trade. Free for museum members, $5 for non-members.
About the Speaker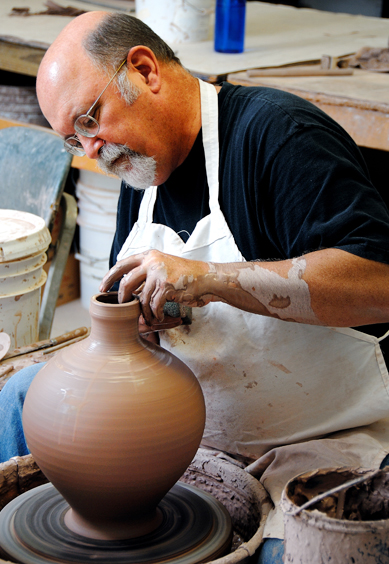 Bob Meier, Member of the Southern Highland Craft Guild and Owner/Operator of Doe Ridge Pottery in Boone, NC began his interest in clay while a student at Appalachian State University. He also attended several local workshops, including one in business practices for craftspeople with Herb Cohen and Jose´ Fumero. Meier was one of the original founding members of Hands Crafts Gallery in Boone, helping establish this as the regions first cooperative gallery in 1975. He remained a member for 25 years. After working in a home studio from 1978 to 1988 Bob established his own studio/gallery on King Street in Boone in 1988. Since then he has maintained a gallery on King Street to this day. Bob's other memberships include Blue Ridge Hearthside Crafts in 1978, and a member of the Southern Highlands Craft Guild in 1983. He is also a member of the North Carolina Pottery Center, Blowing Rock Historical Society and the newly organized Potters of the Blue Ridge.